Company Profile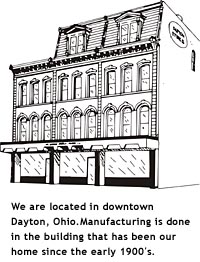 Products is a division of

, which was founded in 1859. The

division specializes in the golf course market. Dayton Stencil is a full service marking device company, manufacturing marking and identification products such as stencils, rubber stamps, signs, tags, custom lettering, and custom industrial engraving. The specialty of manufacturing golf bag tags grew from many years of experience in tag making. Our first golf bag tag was made in the 1930's and the

brand name was introduced in the early 1950's as our specialization in the golf market progressed. Designs, materials, and production techniques have changed substantially over the years, but a commitment to customer service has been a constant priority, and the

tag has continued to grow in popularity with an international clientele.

tag customers include many of the top courses in the country.

also offers a line of golf course signage.

manufactures & supplies products on a wholesale basis directly to golf courses, pro shops, and other end user golf entities.

Product Profile



golf bag tags are produced from acrylic and high-impact polystyrene materials using the hot-stamp imprinting method. Designs are reproduced using spot color techniques from vector artwork. Customer provided copy can be converted to the necessary format by our art department. Proof copies and color examples will be provided after an order is placed. Refer to the product section for full details.