sizes & shapes
colors
connectors
stock designs
inquiry

Regal Economy Styrene Tags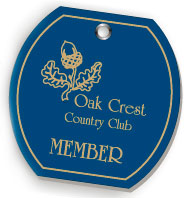 tags are blanked from white .100" polystyrene plastic sheet, and can be decorated with one or a multitude of foil hot-stamp colors (including the background if desired) to provide a bright, colorful "badge" of your club's identity in an economical format. Your own club emblem and design can be reproduced, or a number of standard designs can be used. The tags are furnished with an eyeleted hole, with various connectors available.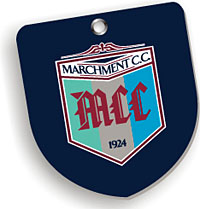 Colors: The material itself is white plastic. The lettering and designs can be done in a contrasting color or colors on a white background. Other background colors are made by imprinting a solid overlay of color on one or both sides of the tag.
Hot-Stamp foil colors are shown on the color page.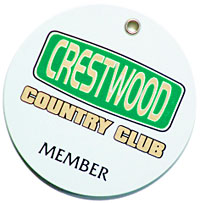 Prices are based on the size, quantity and number of imprints. Imprints in addition to the first color on each side are extra. These are charged on a per imprint basis. Inquire for pricing.